Re-Designing for a Bright Future
You can argue about a lot of things – most of them even. But there are a few laws of nature, that are simply what they are. "Newton's law of gravitation" or in simple terms the "the sandwich always lands on the jam side"-law. I'm sure there is also one that involves a cat. But also: all companies change. Some quicker and better than others, but ultimately they are all subject to constant change from inside or outside. Products, people, inner values and brands continue to develop, just as trends and the expectations and viewing habits of existing and potential customers change. In the middle of all this is the branding of a company, as a communicator, as a moderator and thus as a constant link between company and customer. And the design is an essential part of it.
A branding compass with precise calibration is essential, especially for a company that focuses on future developments and the design is an important part of it. It spearheads developments for multiple industries and its customers and regularly breaks new ground. We sharpened this spearhead for the "FutureManagementGroup AG" and developed a re-designing together with the company. Prof. Dr. Pero Mićić, founder and CEO of FMG, explains how it all came about, what exactly was done and what effects it had.
Hi&Lo: A re-design always is a lot of work and can be risky. Why did you feel it was time for a re-designing? Was there a specific reason or did it happen bit by bit?
Prof. Dr. Pero Mićić: We work a lot with future images, which are naturally quite colorful. A solid look for FMG should not detract from the impact of the future images, nor should it be too conventional. The previous design was simply outdated after a few years.
Hi&Lo: What was part of the re-design? What exactly was done?
Prof. Dr. Pero Mićić: Initially, we only had a thumbnail template designed by Hi&Lo. I liked that and it made me want to see more of it. So we immediately unified all social media posts with a toolbox. Hi&Lo suggested a black and dark blue tone, which I wouldn't have accepted in the past. But the idea was spot on. Next up was designing the cover and illustrations for my new book. The illustrations were also created in PowerPoint, which then led to re-design the PowerPoint template for all our thousands of slides. We ended up moving all the documents and all the formats, and of course the website, to a new platform and having it completely re-designed.
Hi&Lo: What is it that defines the FMG for you, what are the values and characteristics that have to be communicated accordingly through design (as a part of the brand)?
Prof. Dr. Pero Mićić: We call our field of work future management. We are intensively involved with the many upcoming changes in our living and working environments. This is enormously exciting in terms of content and must be communicated in an attractive way. But we are not futurologists whose work we only use as raw material. We process the "futures" with our clients into concrete decisions and future strategies. This is where a solid methodology is crucial. This duality of future content and future strategies must be conveyed in the design.
Hi&Lo: How was the new design received? Have you had any reactions from your clients?
Prof. Dr. Pero Mićić: The new design had a refreshing effect especially on our employees. But our clients have also noticed it, although the effect is rather subliminal and is intended to be so.
Hi&Lo: Why did you trust HiLo Agency with your re-design?
Prof. Dr. Pero Mićić: Because the claim "one partner – infinite resources" is reality at Hi&Lo. Being able to do everything with one partner, from corporate design to slide design to website, makes life easier for an entrepreneur. And Hi&Lo is doing an exemplary job of thinking and feeling deeply about us as a customer, and they're only satisfied when I'm happy with the results.
As part of the re-design, we revised the entire design language because it makes a company recognizable and links it with certain colors, shapes, fonts and – in general – specific recurring elements. Of course, it also has to meet formal requirements and function in different situations. Dark, light, small, large, desktop, mobile and more. We have ensured that the FMG is prepared for all eventualities.
Customization Of The Logo:
We also made some small adjustments to the logo. We brought it in line with the overall design language and made it even better readable.
Customization Of The Font:
We're font fanatics – we admit that. But there are a thousand good reasons for it, not least because we communicate an incredible amount via text. We recognize some brands by the font alone, without the text being particularly prominent or striking. With the switch from Tahoma to Poppins, we made a subtle but overall noticeable change for the brand.
PowerPoint Master And Style Guide:
As part of the re-design, we created a completely new PowerPoint master and associated style guide. That means we prepared templates for every situation using all the design elements, colors, the new font and the new logo. The FMG AG is on many stages and gives presentations in a wide variety of contexts. Therefore, a professional, modern and consistent PowerPoint template was particularly important.
Today nothing works without video. That's why we created a selection of video elements in the new design. These include so-called "lower thirds animations" for displaying titles, names, functions and more, as well as a kit for preparing video thumbnails.
Since the homepage is something like the second face of a company, a re-design would not be completed without applying the new design to the homepage. For that, we changed the whole technical foundation. Just like in the new PowerPoint master, we translated everything into the new design language and simplified complex elements, made them more graphic and streamlined the structure.
Extra: Book Cover And Marketing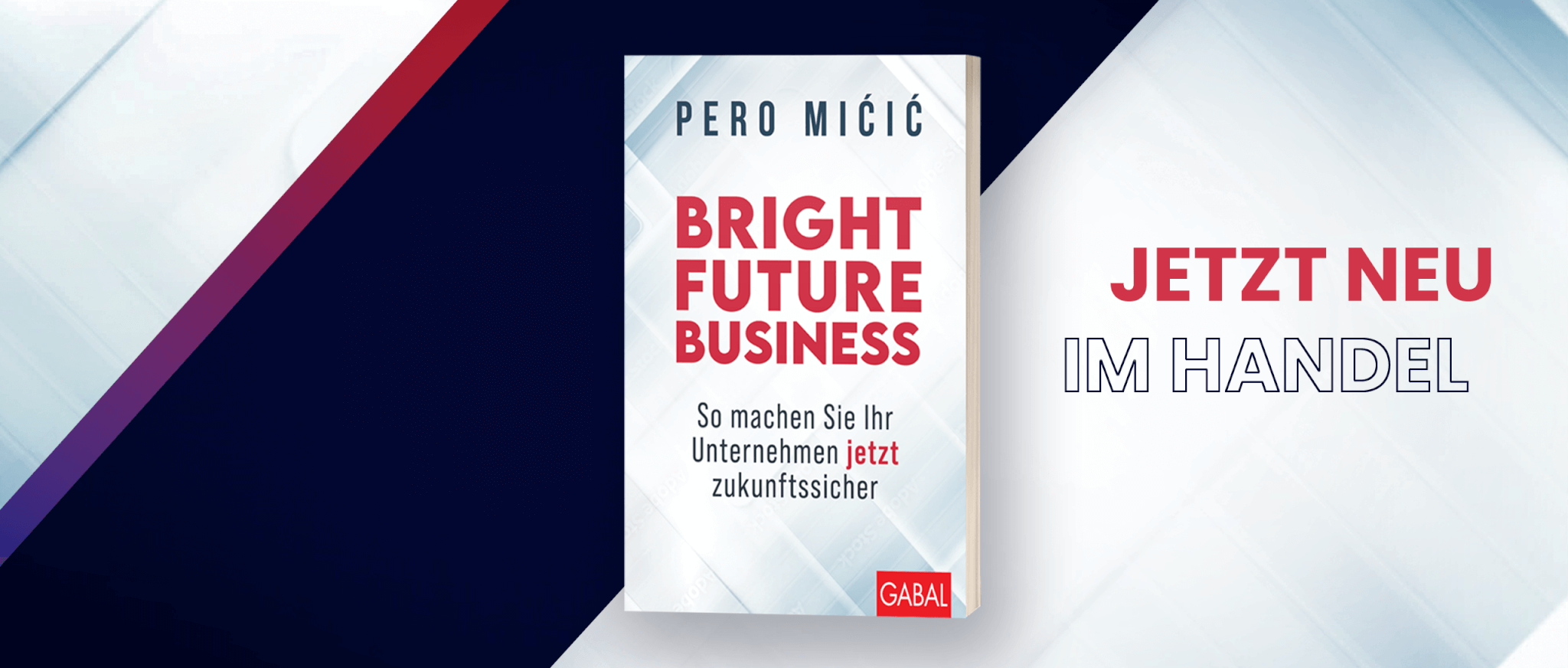 Bright Future Business - Prof. Dr. Pero Mićić
Hi&Lo Agency
Prof. Dr. Pero Mićić is not only the founder and CEO of FMG, but also an author. In his latest book "Bright Future Business" he writes about central topics of the FMG, which is why we have lent a hand here too and transferred various design elements from the company to the cover and marketing of it. The book is a must read and available here: Bright Future Business
What We Learn From All That:
Many companies are afraid of redesigning. At the same time, they invest a lot of time, money and energy in further developing their products. The market is constantly evolving, so this is essential and right. But with the improvement of existing and the introduction of new products, the change in external conditions, social trends and above all the digital world, the requirements for design also change. Or to put it another way: A re-designing brings with it many opportunities, on which the "FutureManagementGroup AG" focused from the beginning. The positive feedback from clients, increasing likes and interactions on social media and video platforms, as well as enthusiastic audiences (and high interest) experiencing their new presentations clearly show: the re-design was well worth it.
Are you looking for a re-design or you require a consultation, please contact us any time. We are looking forward to assist you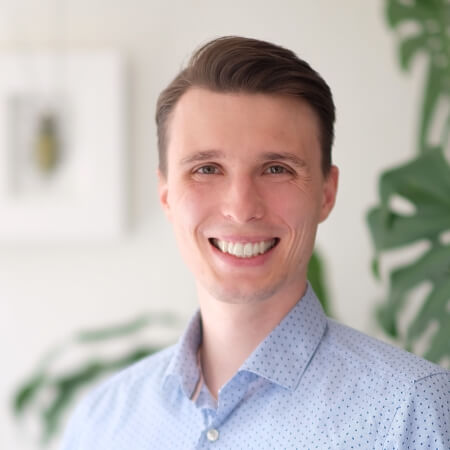 Wieland Schwarz
Author (hover to contact)
Hi&Lo Agency