A POWERPOINT IS A POWERPOINT – THE SPEAKER PRESENTATION
The passionate Ones

In these days of fast consuming information, of gaming videos and tweets arises a league of their own. I am talking about the league of the world changers, people optimizers, inspirers and motivators. The league of the people who are not peeing their pants by the thought of raveling a crowd. The new hyped stars of seminars, conferences and workshops. A league more popular than ever.   SPEAKERS!
Back in the day a good speaker was a pastor, a politician or a professor. Nowadays education and self-optimization is so desperately needed that speakers are the rising stars and treated with fame, popularity and sometimes even a solid cash flow. They resemble an image of what we desire to be or want to live up to. But what is so special about the speakers of this new generation?
Right, they are presenters. They inspire us with their words and actions, they proclaim topics dear to their heart, they are not actors, unreachable in their stardom, they are people like you and me with the slight difference that they found a topic they thrive on and they get up on a stage and tell us about it.
Why are these people interesting to me right now? Correct. Lots of them use PowerPoint.
The Speaker Presentations
Most PowerPoint tips you read about are actually 100% made for this form of presentation:
Only use short phrases
Use Keywords
Max 3 bullets to one slide
Use full screen images
Emotionalize the content
Well designed PowerPoint slides emphasize the spoken word and create the visual in the audience heads. If you have a preferred style, it can also be an important part of your brand building. Consistency in the design is not only practical if you mix and match your topics because you are able to use slides from other presentations in a reframed version or different talk, it also helps your audiences to recognize your content.
Of course, many good speakers don't require PowerPoints but isn't it easier with the picture they're painting us, to see in the background exactly the image they want us to see?
Tears in my eyes
Let me tell you about the worst speaker presentation I have ever seen. About six years ago, I was an event for entrepreneurs and communicators. A very tall and imposing man mid-till end of sixty got up on stage in a dark grey suit and a strong and deep voice. A very popular sales coach, who passionately talks about the LOVE for selling.
He started talking with direct words, no chichi or ruffles, no fill words, "ähms" or twitches and I was amazed by his presence, his wording and his humor. I, a design lover, presentation professional didn't even notice the graphics the beamer projected behind him but then it hit me:
A dark red-redish rose paddle background with a bright yellow font! WHAAAAAAAAAATTTTTTT?????
After I caught my breath again, my focus was back on him. He was the living proof for me, that a good speaker doesn't even NEED a PowerPoint but… it would be also nice not to put tears in your audience eyes if you use one.
Just in case you don't believe me: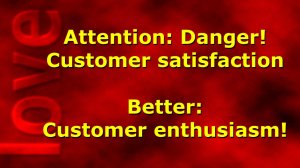 You can twist and turn it however you want. This man didn't need a PowerPoint at all but it sure was a memorable one.
The tale of the less fortunate
Not everyone who claims he is a speaker, is a personality like the previous example. Can you imagine a not yet experiences speaker showing up with a presentation design like this? Unforgivable.
People would not only be disappointed by the speaking skills, this form of presentation would be talked about and mocked.
There is always a presenter bias. People don't always see that the speaker on stage is a lonely one. He puts himself out there totally vulnerable and daring to present. Looking at all these faces the lonely guy up there needs to numb the voices in his head that people are looking angry or bored and an unexperienced speaker clings to his PowerPoint and is happy to visually support his spoken word with a memorable image, a graphic or even a video to bridge a bit of time and catch a breath.
Well-designed PowerPoints can be a life safer in these situations and I know because I was happy to impress with a morph presentation when my knees were shaking throughout a talk once.
Once again, my friends: Don't underestimate the Power of the PowerPoint and make sure you cover what you might lack in description or confidence. 😉
A PowerPoint is never JUST a PowerPoint.
Daniela Lopez
Author (hover to contact)
Hi&Lo Agency